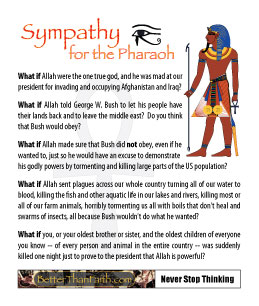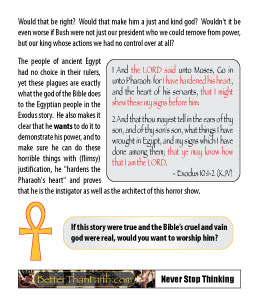 Side 1: Sympathy for the Pharaoh
What if Allah were the one true god, and he was mad at our president for invading and occupying Afghanistan and Iraq?
What if Allah told George W. Bush to let his people have their lands back and to leave the middle east? Do you think that Bush would obey?
What if Allah made sure that Bush did not obey, even if he wanted to, just so he would have an excuse to demonstrate his godly powers by tormenting and killing large parts of the US population?
What if Allah sent plagues across our whole country turning all of our water to blood, killing the fish and other aquatic life in our lakes and rivers, killing most or all of our farm animals, horribly tormenting us all with boils that don't heal and swarms of insects, all because Bush wouldn't do what he wanted?
What if you, or your oldest brother or sister, and the oldest children of everyone you know — of every person and animal in the entire country — was suddenly killed one night just to prove to the president that Allah is powerful?
Side 2: Sympathy for the Pharaoh
1 And the LORD said unto Moses, Go in unto Pharaoh: for I have hardened his heart, and the heart of his servants, that I might shew these my signs before him:
2 And that thou mayest tell in the ears of thy son, and of thy son's son, what things I have wrought in Egypt, and my signs which I have done among them; that ye may know how that I am the LORD.
- Exodus 10:1-2 (KJV)
Would that be right? Would that make him a just and kind god? Wouldn't it be even worse if Bush were not just our president who we could remove from power, but our king whose actions we had no control over at all?
The people of ancient Egypt had no choice in their rulers, yet these plagues are exactly what the god of the Bible does to the Egyptian people in the Exodus story. He also makes it clear that he wants to do it to demonstrate his power, and to make sure he can do these horrible things with (flimsy) justification, he "hardens the Pharaoh's heart" and proves that he is the instigator as well as the architect of this horror show.
If this story were true and the Bible's cruel and vain god were real, would you want to worship him?
Side 1: Atheism – Definition
a-the-ism
[ey-thee-iz-uhm]
a lack of belief in the existence of God or gods
That is the entire meaning of atheism.
Atheism is not a religion, it is not a belief system.
Atheism is nothing sinister, and nothing to fear.
When it comes to Zeus, we are all atheists.
Side 2: But aren't atheists bad people?
But aren't atheists bad people?
Not any more than religious people are. Many people use "holy books" as moral guides, but as much as Christians want us to believe that the Bible is the world's best guide to morality, it is clearly not.
We are actually programmed with a moral code by our genes and by the societies we live in. Adherence to the Bible is not an indicator of increased morality. In fact the US, the most religious developed country in the world, is far from being the most moral. For example, it has a murder rate over 10 times that of largely atheist Japan, and 2-10 times that of irreligious countries in Europe, with 8 of the 10 most murderous states in the US being in the more religious south, which also boasts the highest divorce rates.
Texas, one of the most religious states in the nation, has the largest percentage of its population in prison, despite having the highest execution rate. Higher than the next 6 states combined. The US, just 5% of the world's population, has 25% of all prisoners. It has high rates of unwanted pregnancy and sexually transmitted disease, partly caused by religiously based "abstinence only" education.
Is this what we should expect from the last bastion of widespread fundimentalist Christianity in the developed world?
About:
So far this has been one of our most popular tracts. Atheists and even many agnostics like it because it delivers one of our most important messages: Religious people do not have a monopoly on morality. We non-believers are as likely as anyone to be good people.
The content is also very quickly clear to people taking it, and although some will immediately drop it when they read the word "atheism", more reasonable people will usually read at least the front and hopefully see the truth about us if they didn't already know.
Side 1: Is THIS your God?
And he went up from thence unto Bethel: and as he was going up by the way, there came forth little children out of the city, and mocked him, and said unto him, Go up, thou bald head; go up, thou bald head.
And he turned back, and looked on them, and cursed them in the name of the LORD. And there came forth two she bears out of the wood, and tare forty and two children of them.
- 2 Kings 2:23-24 KJV
Side 2: Discussion
Do you believe in a god that sends bears to massacre children?
In this passage, a group of children tease the bald prophet Elisha. If he were the prophet of a kind and loving god, he would "turn the other cheek", but instead he curses them, and his god sends bears to kill 42 of the kids.
This is a fine example of the cruelty and pettiness so often shown by the god of the Bible. Most Christians believe in a god of love and forgiveness, but the Bible's god is a god of fear and vengeance.
Do you think this monster is worthy of praise? Do you think it even exists?
About:
This is the first in a series of tracts asking people to consider some of the actions attributed to their gods, especially things that most people aren't aware of, and to decide whether or not they can support those actions or their perpetrator.
Most people don't know about the more disturbing contents of their holy books, and their churches are unlikely to tell them, but you can tell them.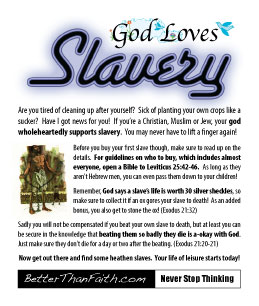 Side 1: God Loves Slavery
Are you tired of cleaning up after yourself?  Sick of planting your own crops like a sucker?  Have I got news for you!  If you're a Christian, Muslim or Jew, your god wholeheartedly supports slavery.  You may never have to lift a finger again!
Before you buy your first slave though, make sure to read up on the details.  For guidelines on who to buy, which includes almost everyone, open a Bible to Leviticus 25:42-46. As long as they aren't Hebrew men, you can even pass them down to your children!
Remember, God says a slave's life is worth 30 silver sheckles, so make sure to collect it if an ox gores your slave to death!  As an added bonus, you also get to stone the ox! (Exodus 21:32)
Sadly you will not be compensated if you beat your own slave to death, but at least you can be secure in the knowledge that beating them so badly they die is a-okay with God.  Just make sure they don't die for a day or two after the beating. (Exodus 21:20-21)
Now get out there and find some heathen slaves.  Your life of leisure starts today!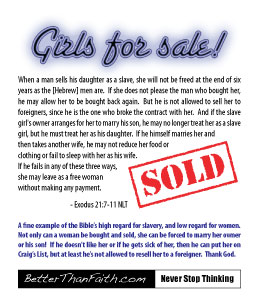 Side 2: Girls for sale!
When a man sells his daughter as a slave, she will not be freed at the end of six years as the [Hebrew] men are.  If she does not please the man who bought her, he may allow her to be bought back again.  But he is not allowed to sell her to foreigners, since he is the one who broke the contract with her.  And if the slave girl's owner arranges for her to marry his son, he may no longer treat her as a slave girl, but he must treat her as his daughter.  If he himself marries her and then takes another wife, he may not reduce her food or clothing or fail to sleep with her as his wife.  If he fails in any of these three ways, she may leave as a free woman without making any payment.
- Exodus 21:7-11 NLT
A fine example of the Bible's high regard for slavery, and low regard for women.  Not only can a woman be bought and sold, she can be forced to marry her owner or his son!  If he doesn't like her or if he gets sick of her, then he can put her on Craig's List, but at least he's not allowed to resell her to a foreigner.  Thank God.
About:
Since God Loves Slavery was the first tract I made, I figured I'd bring it back in a new, shorter and hopefully more amusing form as our first publicly available tract.
Please download it and give it to as many people as you can along with the other tracts that we will start posting shortly.  You can expect at least a couple of new ones every month, hopefully one a week or so, and even more than that this month.
Since the new version of God Loves Slavery is shorter and contains less information than the first one, I also plan to write an article on the subject soon, so keep an eye out for it, and if people don't believe the tract or want to learn more, send them to the article! Thanks for reading, and good luck.