The Mill Avenue Resistance reports are written by Kyt Dotson as an extension of anthropological research on the population of Mill Avenue in Tempe, Arizona. Since the Resistance does their protests Friday and Saturday there are two reports a week. The supporting material not related to the Resistance reports can be found on the Under the Hills blog for Friday, February 6th 2009.

Note: A correction was made to the observation report for Saturday, January 24th 2009.
Just like last week, the Way of the Master preachers and a couple others additional to the group, split themselves across Roosevelt. They took up their mantel in the triangle of dirt lot at 3rd and Roosevelt, with Jim and Valerie, as usual with a Prayer Station—including a little cross and two candles reading, "Jesus"—and across the street there were Edwin, and a few others. The Resistance set up at the triangle with their speaker and Omar went across the street to talk to the other group.
There were also two other evangelical groups at the Art Walk. One of them happened to be Vocab Malone's group further away, and a Christian Rock Band a short distance from Conspire.
The evangelicals across Roosevelt had a large man who brought his young daughter with him (7 or 8 years of age.) A behavior which many of the Resistance react with some disgust. This behavior does seem counter-normative to the mainstream culture, but a great deal of cultures do involve their extremely young children in rituals and activities of subcultures. It may not itself be counter-normative to the evangelical subculture because it is extremely often that small children appear with these groups. This behavior is however not blatantly counter normative to the outlying culture, otherwise it would have diminished away by now—it is well known that religious cultures are affected greatly morally by the cultures they are embedded within.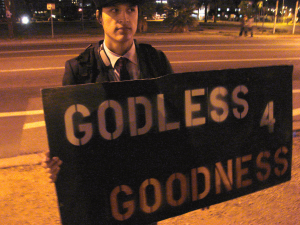 A blonde man with a moustache and beard had a long, frenetic talk with Omar across Roosevelt. And this is one of the things he said as he was starting to bow out,
"God bless you," he gestured to the sign. "Godless for Goodness. I know, I know, we will see each other again." He was referring to a previous statement about how in 30 years Omar would "come to his senses" and realize that this crazy blonde guy that he talked to on the street was right. To which Omar pressed him about believing that he was correct and therefore Omar would be wrong.
The conversation disintegrated quickly when the blonde man wasn't willing to concede the plausibility of opinions on these matters and it descended mostly into Christian dogmatic mirror-speech.
The triangle side of Roosevelt saw Joe, Brian, Kazz, and others holding one-off conversations with the evangelicals. Including more notably Valerie and Jim. Joe spent a lot of his time quoting from the Bible, talking about varied translations from Greek and Hebrew, and even wrote a variation of Epicurius's Riddle on the ground in chalk. Including a phrase saying, "Defeating God for over two-thousand, five hundred years." The riddle is the famous "then whence come evil?" question. Heated discussions were spotty, mostly one on one, some small crowds, but nothing altogether noteworthy.
The setup of the Resistance drew in quite a few interested people who took a look at signs, read them, and looked around wondering what it was about. However, without Kazz at the station for a long period of time, and others not really standing near it, they didn't find anyone to talk to and eventually wandered away bemused. While many people were engaged during the beginning of the night, very few were even noticed later into the night.
The Prayer Station was broken down around 10pm and the entire force of evangelicals on Roosevelt left around 10:30pm. The evangelicals across the street left a little bit earlier. Melting into the crowds.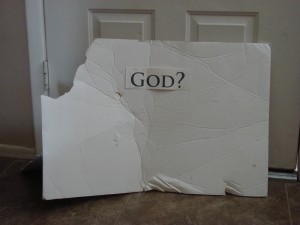 Kazz's newest sign was taken and destroyed. A whiteboard that read, "Do you believe in God? Why?" and then listed statistics, logical fallacies, and other evidence that distinctly does not support the existence of the various incarnations of the evangelical god. Including starvation statistics, amid other elements. The vandals managed to grab the sign without notice, ripped it to shreds, tore the top askew, and left only one word on the entire sign:
"God?"
An interesting message if this was done by anyone from the Christian culture.
Overall crowds ran from thick and thin, people did stop to have discussions with Kazz and others, the evangelicals gathered crowds here and there, but mostly added to the First Friday backdrop in the same manner they did before. The sidewalks got chalked, a good time was had by many.