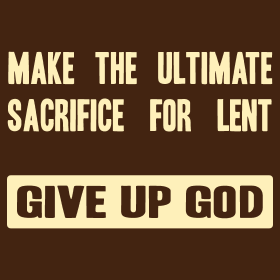 Today is Mardi Gras, Fat Tuesday, the day to go crazy before Lent kicks in. For 40 days, starting tomorrow, we're supposed to deprive ourselves and do penance for the debauchery that hits its peak today.
Traditionally people give up something for Lent. It may be something as minor as not eating ice cream, or something as major as fasting and self-flagellation for all 40 days.
I would like to suggest something even more radical. Rather than the relatively unhelpful sacrifices like starving or beating yourself, why not do the one thing that could most dramatically change your world view? Why not make the ultimate sacrifice and give up God?
Compared to a lifetime of belief, 40 days of unbelief should not ultimately be enough to make a dent in your faith. That is unless God doesn't exist. Are you brave enough to find out?