Ah, Saint Patrick's Day. A time to celebrate the man with the dubious honors of spreading Christianity across Ireland and of ridding Ireland of the snakes it didn't have to begin with. A day to celebrate our Irish heritage if we have it, and a day to drink like we do even if we don't.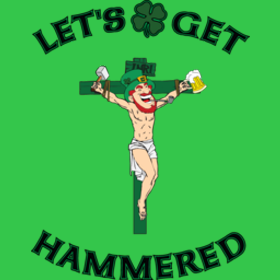 Patrick is also said to have used shamrocks to help explain the trinity to people, but it really doesn't make any more sense if you've got a clover in your hand. Maybe that's one of the reasons he is also said to have had such a hard time converting the Irish that his staff would grow roots into the ground while he stood there preaching at them.
Of course most or all of this is simply legend built up around an ancient missionary who may or may not have done much of consequence. Fortunately today St. Patrick's Day is much more about celebrating the better parts of Irish heritage and having fun.
St. Patty's Day is also a good excuse for a sale. From now through March 12th, 2009 you can enter the coupon code MARCH19 at checkout to get 17% off your order of $25 or more, so stock up on shirts for spring!
Saint Patrick's Day designs will only be available through March 17th, so if you want to get hammered with Leprechaun Jesus this St. Patty's Day, order now!