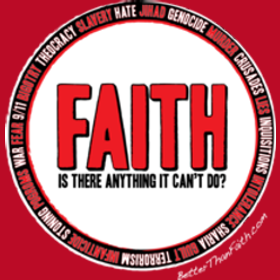 Religious people are fond of telling us how great faith is, but what does it really do for us? Sure it provides a sense of comfort and security to believers, but can it make them do more?
How about Jihad, genocide, murder, crusades, lies, inquisitions, intolerance, Sharia, guilt, terrorism, infanticide, stoning, pogroms, war, fear, 9/11, bigotry, theocracy, slavery and hate? That is not nearly an exhaustive list, but these are just some of the terrible things that have been done through faith in various gods, and most of them are still happening today because of people's religious beliefs.
Next time someone asks you how you can live without faith, why not ask them how we can all live with it?