Well, you knew it had to happen eventually…we finally have wares to peddle. I think that many of our non-theist readers will be happy, but the believers among you may want to avoid the shop because you will probably be offended if you look.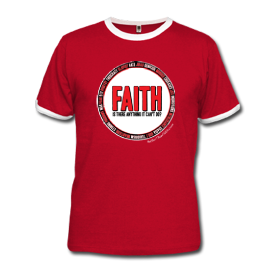 The rest of you, please check the shop out! We will be putting up new designs frequently and posting them here, so if you don't see what you're looking for, keep checking back. The shop isn't much to look at right now, but we will begin making improvements to it in the near future, so please bare with us as we get things up and running.
If you would like to see different colors or shirt styles, more women's shirts or any other changes, please send us a note through the contact form or the forum. The only ways we know what you want for you to buy something or tell us what you want, so speak up — or better yet buy something!