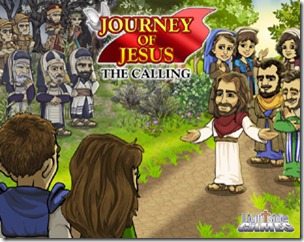 On its face, Journey of Jesus: The Calling is a Facebook Flash-based game that does exactly what it says on the tin, right down to being a Facebook game. It even suffers many of the flaws that most Facebook games do, from intrusive integration with the social networking aspect, to an aggressive "energy" system pushing players towards microtransactions. As for narrative, it follows a storyline based primarily on Christian mythology that is for the most dusted off only slowly by player activity.
The game boasts on Facebook that 15,000 people play (in their sidebar advertisement.)
In a recent GamePolitics post, it was mentioned that the game got some air time on Fox News. Christian software developer Lightside Games sent their CEO Brent Dusing to speak about the launch—which, much to the video game world's amusement, was launched the same day as Blizzard's Diablo III.
"Both games immerse the player, and you are what you eat," Dusing said in a statement to Fox News. "While one game goes one direction, Journey of Jesus: The Calling players walk in the Messiah's steps, in an authentic experience of Israel in Christ's time."
The game does come with the praise of at least one apparent, although largely unknown, religious scholar.
"Why would a theologian endorse a social-gaming game? Because 300 million people weekly log on to social games and because Journey of Jesus: The Calling takes players closer to the life of Christ in a fun, reflective and entertaining way," said Darrell Bock, research professor of New Testament studies with the Dallas Theological Seminary.
As a game, it follows the free-to-play model by providing services and game enhancement via microtransactions (for $2 to $50) or spreading the word about the game to Facebook friends.
The gameplay is ubiquitous for a Flash-based Facebook game and it's boring
Here's where the game really falls down: it's just not interesting and in some ways it's frustrating.
Most Facebook games are Flash-based and must work around a simple UI system that uses only one mouse button and as a result they tend to avoid complex interface design. In JoJ:TC the player partakes of a sort of adventure-style object-find game while moving a character around the map. With each object-find it allows the player to unlock further regions of the map and more dialogue.
The object-find functionality is at least extremely simple and easy to figure out. There's very little puzzle to it and it's generally fitting to the setting. The player might be asked to weed a region, chop up logs, or clear a path of brambles. All of these open up further paths and sometimes new maps along the narrative-line.
Useful items can be received by beating foliage (trees, grass, etc.) as well as a little bit of energy, points also come from speaking with characters to help reveal more of the story.
Here the "energy" mechanic comes strongly into play. The player is capable of only a certain number of actions per day, these actions are governed by a type of stamina. This stamina drains as the player finds objects and completes tasks. When the stamina runs out, the player can wait for it to be refreshed over time; or purchase more from the game via a microtransaction currency (gold bricks.) Of course, you can also ask your friends to help give you more energy—the social aspect of this game is extremely strong.
After almost every task completion the game thrusts a "share this with your friends!" window that tries very hard to tie the social networking Facebook experience into the game. This isn't uncommon for Facebook games, but the degree to which the intrusion went seemed somewhat more excessive than usual.
By the time I made it to the second chapter I even ran into an instance where I couldn't unlock an element of the game without calling in my friends to help me. Other games generally only settle this for accolades, or special items that don't affect game play; and this one isn't all that different in this respect. Of course, it's possible to avoid having to ask friends for help by spending gold bricks instead.
The narrative is obfuscated and plays through contemporary Christian mythology about Jesus
…but the player character never speaks to him directly. At least not in the beginning.
Most of the game is all about following Jesus through various stories from the New Testament and listening to what other people have to say is going on. Some of the characters are also characters from the New Testament stories (such as disciples of Jesus) and there's even a strange glowing man who stands out in some maps but says very little.
The characters refer to Jesus as "Yeshua of Nazereth," the first part of the name is a Hebrew derivative of "to rescue" or "to deliver," and is sometimes used as alternative name for Jesus.
It's hard to tell what sect of Christianity that this game is attempting to audience for itself. Different sects modify their contemporary mythology about Jesus based on emphasizing or reflecting dissimilar portions of the story. The makers of the game address this a little on their website speaking about why they might be involved in Christian theology, but that's something internal to the religion that would have to be addressed between their myriad sects.
The locales chosen look like they're time-period appropriate for the setting of New Testament stories. The maps of the game take the player around Galilee in the first century C.E. although some of the technology is a bit off. There are Roman soldiers around the countryside (and in one case you get to gang up on one with another native.)
The beginning few stories involve attempting to see Yeshua who is being baptized in a river by John the Baptist—a preacher contemporary to the storytelling, who is also characterized in the New Testament—and helping out some fishermen at the shore of the Sea of Galilee (aka Lake Tiberias.) Most of the game entails collecting objects from the environment and then using them on other objects; for example getting fishbones to make needles, and nets to fix the sails on the boat.
Due to the aggressive energy system the story is also very difficult to access. As a result, it's hard to critique the storytelling or even appraise the contemporary mythology.
This game is marketed to sell to a Christian audience and is unabashed in money requirements
The developers of JoJ:TC know their audience and they're trying very hard to sell to them. The microtransaction system and the extremely aggressive social media tie-ins speak to a publisher who knows how to leverage the Facebook culture and is looking to make money from it.
This might explain why the storytelling is deliberately bland and the gameplay is tedious; it also shows why the energy mechanic is so aggressive as it hollows out the narrative development forcing the player to keep coming back (pay money, or announce the existence of the game to friends.) As a free-to-play game it's brilliant when it comes to working its audience to make money.
The cash shop in the game also includes items that can be bought for money that enable players to perform certain tasks without spending any energy (allowing them to follow the game further each day) some of these items cost upwards of 20¢ a pop (that's 20¢-per-tree to receive logs without spending energy.)
With a significant portion of the United States population adherent to the Christian religion and a background of cultural Christianity, a game like JoJ:TC will probably manage to sell well.
The Facebook game exists in the all-enveloping shadow of Blizzard anyway
The Fox News article reflected on the launch of this game by riding it onto the coattails of Diablo III. Chances are that was done because a Flash-based social media game isn't going to attain as much attention without hitching a ride with the most-popular-thing in the video game industry. As a result, the comparison is hilarious.
Diablo III is not free-to-play and doesn't hook into Facebook; although it has its social aspects, it's not at all aggressive at making players tell their friends about it, and it doesn't charge them any more than the $59.99 price tag on the box. It's also less a casual game than one like JoJ:TC which will float or fail based entirely on people noticing that it exists.
For those people looking for an energy-based Facebook game with a storyline, interesting gameplay, and some social media aspects I would suggest playing Dungeons & Dragons: Heroes of Neverwinter instead. It has all the hallmarks of an excellent fiction game, leveling, branching storylines, tactical puzzles, and even the ability to bring your friend's characters along. It's no Diablo III, but it's a smarter game with better mechanics, and even includes the ability to make adventures of your own, a true Renaissance game for the social media era.
Happy gaming everyone.