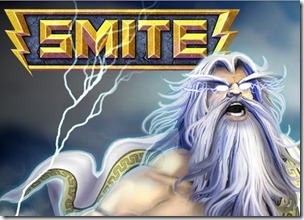 Recently, a Hindu group (in the United States) became agitated at Hi-Rez Studios' DOTA-like online game SMITE for providing several Hindu gods as characters—the game also allows players to play gods from other mythologies such as Greek, Egyptian, and Norse. The irritation directed at SMITE for the inclusion of the Hindu gods brought people to notice that SMITE seems to have avoided other widely known mythologies—especially those from the Abrahamic religions.
Gamepolitics picked up the story, asked the question, and Hi-Rez responded; however I think it's obvious why games don't go with characters from popular religions.
Why? There's two reasons. The first is that the characters from Abrahamic mythology cower under the umbra of an amount of privilege to an audience who want them sanctified and would rather have their hagiography laid out in a video game rather than see them rolling down the lane in a DOTA game. The second is that much of Abrahamic mythology is excruciatingly boring and steeped in a political culture that lacked a sense of transhuman imagination and instead turned to mysticism rather than the inspiration of animism.
Privileged mythology has a serrated edge in a given culture; the audience might perceive it as too sacrosanct to approach. See the prohibitions against drawing the prophet of Islam, Muhammad, that have been the center of a certain amount of strive involving Comedy Central and South Park—giving rise to Draw Muhammad Day in protest to some particularly stupid radical Muslim groups and drew many Muslims in counter-protest not because they felt a pressing need to do anything but ignore a total outsider drawing Muhammad, but because they felt obligated to speak up for their own cultural norms.
However, what really prevents characters like Jesus being portrayed in a video game like SMITE is because of the trivial condition of sheer dullness.
Jesus, Abraham, Noah, Moses, Muhammad, etc. they're all just humans who were the center of the narrative mythology plots where they drove either a political or cultural revolution. Adam isn't even a character so much as a vehicle for telling the story—he didn't cause anything so much as things happened to him. Jesus exists as a sort of protagonist to a political story of a moral teacher who seems to be framed in a spiritual homage to the Greek poem the Odyssey (and Odysseus is still a more compelling character.) None of them exhibited special powers beyond their connection to the divinity du jour and their only claim to cultural significance is from the context of their own mythology. Worse, that mythology belongs to the popular religious culture meaning that it cannot even claim to be exotic.
Okay, so Moses murdered an Egyptian in his narrative, he's violent; but that doesn't make him an impressive warrior. Sure, Elisha could summon bears to tear people to shreds—people do love to flog that one. Ezekiel seems to have had an undead army of skeletons at one point in his story. The problem is that these imaginative turns are blanketed heavily by extremely boring prose regarding customs, costume, laws, and the odd genocide.
The only elements of the mythology that anyone has managed to make remotely interesting have all come from Revelations where angels are described as fantastic monsters, the four horsemen, and the various incarnations of the angel Lucifer. These, however, belong to contemporary Christian mythology arising from an era of poetry and arts and thus are actually imaginative and escape from mysticism to involve symbolism and the flourish of presentation.
No doubt the only character worth rolling up into a game is also the oldest portrayal, the war-deity YHVH. There could be fire and smoke, booming voices, the skies parting for a chariot with a rider tossing fire bolts like spears. The grand drama of the gods that was quickly lost after the influence of the Babylonians and other cultures bled out as the stories were crammed like garments into overstuffed luggage into early Christian mythology.
We are more likely to see Renaissance-era contemporary additions to Christian mythology—Revelation's angels, four horsemen, etc.—arrive in SMITE as part of Christian cultural characters because they fall a little bit outside the mainstream symbolism. They're also far more interesting than any of the other contenders.