Like many street corners around the country, even around the world, Mill Avenue near ASU in Tempe, Arizona is invaded every weekend by people who want to have fun, and people who want to loudly condemn it. There are many different groups of street preachers who come to Mill on Friday and Saturday nights, but the most consistent are also the most annoying.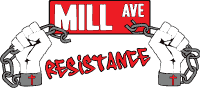 The preacher group that is represented every Saturday night follows the Way of the Master method which basically consists of tearing people down, making them feel worthless and horrible, and then telling their victims that they have the answer to their "problem".
This is a despicable way of manipulating people. It is not an honest and rational intellectual discussion, it is just a trick, a religious con, and we have had enough of letting this game go unchallenged.
Our other big problem with these street preachers is that the majority are "young Earth creationists", which means that they believe the Earth is very young (probably about 6,000 years old), the story of Noah and the flood and the rest of the Bible stories are literally true, and they have a strong distrust of science which they try to spread by presenting a severely distorted and uninformed view of its history.
They make false claims about what scientists do and have believed, and even about what the Bible says in an attempt to make it appear to fit with the scientific discoveries they don't reject.
While we fully support their right to free speech, we feel that another voice is needed. People who can and will tell the truth about religion and science to listeners who may be confused by the false evidence they present and the mind games they play.
At any given event there are normally 5 to 20 or more of us (the higher numbers are during the school year), but there are usually at least as many of them, often from multiple different groups. As we have continued to make their jobs more difficult though, they have begun to spread up and down the street and we don't have the numbers to cover all of their tendrils. That is where you can help.
If you can speak publicly or individually to people about science and/or Christianity, if you're willing to pass out tracts which we provide for free, or even if you just want to keep us company and show your support by being there, please join us at any of our scheduled events.
Many evangelical Christians consider this a war, and we must not sit idly by while our country is conquered by fundamentalists peddling propaganda filled with ignorance and lies.
"This is more than just a spiritual war. It's a culture war."
- Ron Luce [1]
1. Ron Luce is the founder of BattleCry, a fundamentalist Christian teen indoctrination tool.