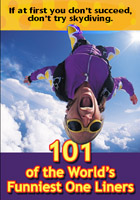 This tract is a giant fold-out with a yellow cover, four internal pages, and four external pages (including cover.) Inside pages have white backgrounds and the external pages have yellow backgrounds. As the title suggests, it has one hundred and one one-liners of varying humor, with some Christian snipes at atheism and science mixed in:
"48. National Atheist's Day: April 1st."
"69. The Big Bang Theory: God spoke and BANG! it happened."
"70. Atheism is a non-prophet organization."
"97. Evolution: True science fiction."
And so on.
Although, this one-liner is just weird:
"43. God made mankind. Sin made him evil."
The tract part is a tiny little part called an editorial on the third internal page.
This tract manages to provide its message with only one singular Bible cross-reference and one paraphrased line.
"Probably the most thought-provoking one-liner is 'Eat right. Stay fit. Die anyway.' It's sad but true—no matter what you do, you will die."
Basic appeal to fear.
One of the next lines is particularly weird. "Jesus said, 'Whoever looks up on a woman to lust after her, has committed adultery already with her in his heart.'" I look at other females quite often to lust after them, to this date I have not suddenly become male. I am not an amphibian or fish, I am a mammal. Unlike amphibians and fish, mammals have never demonstrated spontaneous gender changes. (Perhaps this tract is only meant for the boys and I just don't know that it this line means it doesn't apply to me.)
"You know that you will be guilty, and end up in Hell." The threat of Hell canard once again. I am going to take a poll here, my readers, who wants me to come up with a series of categories for grading and I'll tick them off when I dissect one of these tracts. Certain themes do crop up again and again, I hypothesize that their frequency will match the relative strength of any given dogmatic meme in the religion. Threatening people with Hell is one of the most frequent and across-the-board. Demonstrating Hell exists isn't.
In fact, I don't know that I've read a single religious tract that manages to demonstrate Hell in any meaningful fashion. Insofar the threat only appeals to Christian mythology. This is another example of the Big Lie propaganda mechanism combined with the appeal to mythology. Not only is this threat repeated over and over, it relies on the reader of the tract to never attempt to discover or unveil the lack of evidence for any Hell.
"Please do that today…you may not have tomorrow." This is a favorite line spoken by life insurance salesmen in movies. I don't know about how they sell life insurance in the real world, but making creepy assertions about the possibility that you might not survive the night is another appeal to fear.
At least a few of the one-liners were actually funny.